Dial Through Preferences
Settings for telephony dialing rules: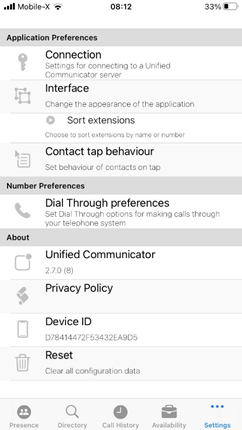 Doorkiesnummer:Enter the pilot number for the DISA / Auto-attendant system. Enter the entire DID number to dial through.
*Opmerking: Het invoeren van alleen de laatste helft van het Doorkiesnummer zal niet werken.
Pauzeteken:Enter the character used by the telephone system to indicate a pause e.g. "," (a comma).
Netlijn toegang:Enter the number required by the telephone system to access an outside line e.g. 9 is common.
*Opmerking: This setting only applies to 'Mobile via Dial through' and is not applied to Softphone settings. In order to use Dial through on a Softphone, trunk access must be configured on the Softphone app itself.
Externe nummerlengte:Enter the number of digits an external telephone number would be expected to have.
*Opmerking: A telephone number with fewer digits than the value defined here will be considered an internal number by Unified Communicator.
Select the Back button on your device to save and return to the previous menu.